Corporate Social Responsibility
As a responsible Company, France Contentieux is also involved in the fight against any form of discrimination or exclusion through different actions:
France Contentieux is a signatory of the French Diversity Charter ..
This Charter is intended to bear witness to our commitment to the cultural, ethnic and social diversity within our Organization.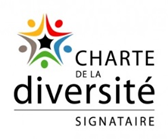 In accordance to this Charter, France Contentieux undertakes to:
1. Raise awareness of non discrimination and diversity issues among top management and staff involved in recruitment, training and career development and to educate them in these matters.
2. Respect and promote the application of all aspects of the principle of non- discrimination at every stage of the human resources management, in particular in the recruitment, training, promotion and career development of employees.
3. Endeavour to reflect, the diversity of the French society particularly in its cultural and ethnic dimension at every level of our workforce.
4. Make all our employees aware of our commitment to non-discrimination and diversity, and keep them informed of the practical results of this commitment.
5. Make the development and implementation of the diversity policy a subject of a dialogue with the employees' representatives..
6. Insert a chapter in the annual report describing our commitment to non- discrimination and diversity including details of the measures implemented, our internal procedures and the results achieved.
France Contentieux is involved in the fight against exclusion and supports the Association TFA, respite for a better world.

This organization is collecting donations in order to allow parents and relatives of children with disabilities (and specifically those suffering from a spectrum of autism disorders), to entrust their children to staff trained for this purpose and to enjoy respite for themselves.
In this context, France Contentieux has taken part to the "Glisse en cœur" charity event on 23, 24 and 25 March 2018 to raise funds for TFA. Our team skied for 24 hours nonstop to support this project. In addition to the sports dimension, was the human commitment of a team that convinced us defending the common values that hold us dear.
If you also want to support TFA and provide respite for a better life, feel free to make a donation by clicking on the link below http://tfa-repit.org/agir-donner/
Your donations will go directly to the organization.